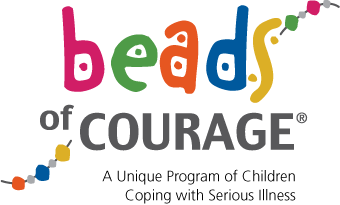 On behalf of Wichitas Littlest Heroes and sponsors we provide art-therapy for all of our 500 Hero families with Beads of Courage in Honor of Addison Adams and all our Hero Angels.
​
They will never be forgotten.
​
For more information please contact
What is the Beads of Courage Program?
The Program is a resilience-based intervention designed to support and strengthen children and families coping with serious illness. Through the program children tell their story using colorful beads as meaningful symbols of courage that commemorate milestones they have achieved along their unique treatment path.
​
How Does it Work?
​
Upon enrollment each child is given the Beads of Courage bead color guide with a detachable membership card. Their Beads of Courage journey begins when each child is first given a length of string and beads that spell out their first name. Then, colorful beads, each representing a different treatment milestone are given to the child by their professional health care provider to add to their Beads of Courage collection throughout their treatment as determined by the Beads of Courage Bead Guide (available from Beads of Courage, Inc.)
​
The Beads of Courage Program is available
for the following:
Cancer and Blood Disorders
Cardiac Conditions
Burn injuries
Neonatal ICU Families
Chronic Illness
All Program bead guides were developed in collaboration with experts in the field (nurses, doctors, child life specialists and social workers) so that each bead guide would reflect meaningful acknowledgment of a child's treatment journey.
​
Major Benefits
​
Ongoing evaluation of the Beads of Courage program indicates that the program helps to decrease illness-related distress, increase the use of positive coping strategies, helps children find meaning in illness, and restore sense of self in children coping with serious illness. The program also provides something tangible the child can use to tell about their experience during treatment and after.